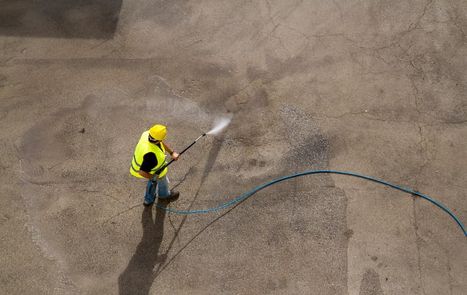 TOP OF THE LINE SNOHOMISH CONCRETE CLEANING TO MAINTAIN YOUR DRIVEWAYS AND SIDEWALKS
Like all of the exterior surfaces of your Snohomish residential property, your concrete can be vulnerable to stubborn stains and substances that detract from the overall look and feel of your home. With our top-tier concrete cleaning service, we can improve both the appearance and quality of your driveway and outdoor pathways in no time at all. Our team of experts is known for providing the highest quality pressure washing for Snohomish and the surrounding areas, and your home will be no exception. Give us a call or fill out our online service request form today to get started!
WORLD CLASS DRIVEWAY WASHING FOR CLEANER, STRONGER CONCRETE
Your Snohomish driveway is one of the very first areas that visitors see upon entry to your home, so why not keep it sparkling clean with our expert concrete cleaning service? Concrete is one of the more sturdy materials out there, but that doesn't mean it's exempt from needing routine maintenance. Our team of experts will remove even the oldest, most set-in stains from your concrete or asphalt with ease, leaving it in much better condition than ever before by the time we're done with it.
Another great perk of concrete cleaning for driveways is that it's a fantastic prep step for other repairs and renovations. Need a new layer of sealant to help keep your concrete in good shape? Or perhaps you want to update the look and feel of your driveway with a service like concrete staining or resurfacing? Either way, this service will thoroughly clean the area beforehand to make any further services an absolute breeze!
HOW PROFESSIONAL SIDEWALK CLEANING HELPS KEEP YOUR OUTDOOR PATHWAYS SAFE
Your sidewalks and other outdoor pathways serve as an easy way for you, your family, and your guests to navigate your entire residential property, but if they're caked with a thick layer of dirt, grime, and organic growth, navigation can be anything but easy. It's important to keep them clean not just for the sake of an attractive appearance but for health and safety reasons as well. Concrete cleaning for your sidewalks and pathways is the perfect way to remove a slippery layer of grime from the surface in order to help it regain proper traction and reduce the risk of any slip-and-fall incidents.
Are you in the market for another one of our high-quality services for your Snohomish home? We offer an incredibly effective house washing service for siding that sparkles and shines all year round!
GET A QUOTE TODAY WITH YOUR LOCAL PRESSURE WASHING COMPANY IN SNOHOMISH